Artists Gallery
Since the mid-1990s, when he was introduced
to the concept of manipulating natural light, Joe Buberger has been
experimenting with what he calls "Sculptured Sunrays." Recently, Buberger
surprised the art world with the release of his own private creations, which may
be viewed at
www.sculpturedsunrays.com . These photographs are not the historic
rarities Buberger has been known to deal with, they are timeless abstract images
he creates by working with the natural spectrum. "There are no objects
photographed here," says Buberger, "These shapes and forms are created by a
single beam of light that has traveled 93,000,000 miles." "My art is quite
a sedative, I'm sure after you see it the images will remain in your mind to
dance and spin." Click to see a video of Joe's work on YouTube.
Sunrays
The Movie
These images were given to Healing Arts
Network for display by Israeli artist Marat Zaharin. They all have the
copyright of the artist. He can be contacted by email zms@hotmail.co.il Please
click on the small images to see an enlargement. You will have to use your back
button to get back to this page. For sale at www.Tamaragallery.com
.
Angel's Grief ( 2003, Oil, 54x68Cm, 21x27in)

Conscience ( 2003, Oil, 75x31Cm, 30x12in)

Diverse of worlds (1995, Oil,19x18Cm, 7x7in)

Flow (1994, Oil, 18x17Cm, 7x7in)

Master of destinies (2001,Oil,47x68Cm,19x27in)

Observers (2000, Oil 40x28Cm, 16x11in)

The spiral of evolution (2003, Oil, 90x41Cm, 35x16in)

Underway acres (2003, Oil, 47x35Cm, 18x14in)

Traveling into illusions ( 1998, Oil, 40x37Cm,
11x15in)

Valley (2003, Oil, 35x49Cm,
14x19in)
From the artist,
Marat Zaharin:


I was born in Belorussia in 21/08/1974 in the family of a military man
and a doctor. As my farther was in the army and we had to change the
place of living all the time I lived in many parts of Russia. I had
studied fine art since childhood. In 1992 I came to Israel where I live
now.
My main
aim in the life is to perceive myself and God. Creation helps me in it
very much. I feel other worlds and dimensions and all these are
reflected in my paintings. Our material world is only a small part of
reality and if a person begins to think that it is the whole, he starts
to relate to the li
e too
seriously and as a result touching unconsciously the extremes. This
world is duel. To understand it (the world) we have to go through
extremes. After realizing the black we penetrate into the white, in
order to perceive the all varieties of colors between them, but do it
deliberately. One ought to understand what is this the whole – God and
from this point to look at the details (His creations), but not on the
contrary. Similarity with God is expressed in unity. When we are
separated inside ourselves and one part of us is in conflict with
another – we are weak, at the beginning in the Soul and later in the
body.
My
images help the person to feel himself as an integral and make him to
touch to other dimensions, unifying them with our material world inside
himself. Drawing out viewer from the illusion's fog that it's only
world and after death is only darkness, they (my pictures) present the
gift of sureness and strength and heal the people spiritually.
Heal
your spirit and your body will be healed itself!
From the artist, Walter Mercado:
Works of murals I created for
the city of Philadelphia for the year 2003.The murals have had a healing
impact on the souls of those who I have spoken to, who live in the area
in which I created the murals. (The artist is working on art
pieces for the home, pictures of which will be displayed here.) Walter
can be contacted at:
My website:

http://www.geocities.com/molokaicreeper/
215-329-0828
morningstone@gmail.com


All pictures have the
copyright of the artist.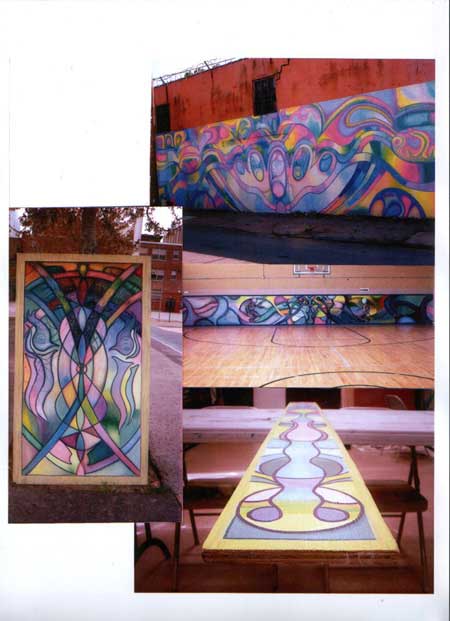 I was born in Philadelphia, on 5/26/60; from my mother Elsie
who had complications while giving birth to me, and went into sever
depression when I was taken away from her months later for my own
protection.
I guess I spend most of my life trying to understand the
human mind throughout my childhood especially the chemistry within our
neurons which can cause the loss of great things that are so dear, and
close to us. Especially when we feel so close, is what led me to
research the statistics of human brain functions, which become distorted
while living a heart broken life altered by the hippocampus of the
brain.
I began to research supersymmetrics in the summer of 1990, to
find a way to stimulate the areas of the brains which need fusion
like optics to accommodate the essentials missing visuals for creating
harmony In the brains hippocampus; also optimizing brain frequency for
the brains frontal cortex for stimulating creativity in the brains non
reference area which will elevate high levels of creativity for artist
who would use know references in their creations; emanating a pure
universe.
So far my artwork has produced lasting stimuli to the
individuals who have become in contact with it producing a peaceful
reaction, and at the same time creating a more observant reaction,
capable of seeing into the
greater dept of the mind.
Please visit Walter's website to see
many more of his pieces.
http://www.geocities.com/molokaicreeper/